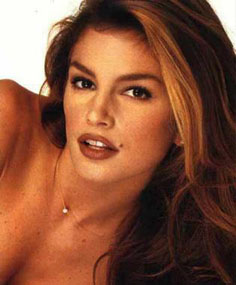 Being a mom and turning 40 can feel like a double whammy. Not only do you have to deal with dirty diapers and temper-tantrums, you're also thrust into a new decade and have to decide if your clothing is age-appropriate while you start noticing wrinkles. Now we can't all look as great as Cindy Crawford, Brooke Shields or Jennifer Garner, but looking and feeling frumpy do not automatically come with aging. With a little care and some preventative maintenance, you'll be well on your way to being forty and fabulous! Here are a few things to be aware of that can date you faster than you can say "yummy mummy".
1. You look like you are wearing a Tent
- Baggy clothes that hide your entire body make you look old and matronly. Show off the parts of your body you still like and cover up only the parts you don't. Don't use oversized clothes as a gigantic blanket to hide behind. Switch to more fitted clothing (but
not
tight) if you want to look fresh and with it.
2. Yellow Teeth
- A big turnoff and a telltale sign of age despite how great you may look otherwise. Flash them a set of shiny white teeth and knock ten years off. These days it's easy with at home whiteners or dentist laser treatments that restore sex appeal.
3. Dated Glasses
- Still wearing those hokey glasses you bought ten years ago? Time for an update. The trend now- buy at least two pairs—one that is dressy and one that is casual and fun and switch them around to look modern and fashionable. Be sure to take a stylish friend along with you when you make your choice. It's easy to get stuck in an eyeglass rut and end up buying much the same thing you had before. And don't forget, a great pair of sunglasses can make you look and feel super chic!
4. Dull, Uneven Skin Tone
- As we age our skin starts to fade and years of sun damage from too much tanning begins to show up on our face as dark brown spots. You can even out your skin and restore its natural glow with cosmetic peels, and even laser resurfacing treatments. An added bonus- fine line and wrinkle also seem to disappear as the new layer of skin is revealed.

5. Scary Lips
- Halloween is over! Ditch the bright lips which are too strong a contrast to aging skin and hair and try wearing soft natural shades in pinks and peaches. And as for those dark lined lips that make you look like a vampire- when were those EVER in? When you walk in a room you want people to think how beautiful your face looks, not how hideous your lips look.
6. Juvenile Styles
- Some styles, whether you want to hear this or not, look ridiculous on a woman who is 40+. Pinafores, overalls, anything too fluffy or frilly or with too many bows make grown up women look like wish they were still little girls. Avoid Juvenile styles like this and steer towards more clean, classic styles that look chic and polished.
7. Old lady Handbag and Shoes
- You'll look like an "old bag" if you carry an old handbag. Unstylish purses and shoes are a sure giveaway you've fallen in an old lady fashion rut. Study the magazines, see what younger gals are carrying and wearing on their feet and copy them. This is one area where you can be a little more trendy and fun. Classic styles + funky accessories = modern and youthful.
8. Too much Denim
- Old rockers may never die, but sometimes it's good to give it a rest! Head to toe denim after 40 looks tacky. Heck, this look is hard to pull off even if you're 25. Stick to well fitting pair of stylish jeans (try a trouser cut), with a low to medium rise. Steer clear of "Mom jeans" that are too high cut and emphasize a bulging tummy or hips. Dark jeans are always more elegant, so much classier if you are 40+.
9. Saggy Bust
- If your breasts are heading south it's time to perk them up with a good supporting bra. The older we get the more this is to help hold everything that's fallen in place. Throw out your boring white underwear. Go out on a limb and get some lingerie that is colorful and fun. Age is a state of mind and if we're feeling sexy underneath, we're going project a vibrant, youthful energy to the world. While you're at it, get a bra fitting so you know you're wearing the correct size.
10. Helmet-Head Hair
- The most glaring sign you are stuck in the past is hair that resembles a hair sprayed bubble. Remember the helmet head hairdos of Betty and Wilma Flintstone back in the 60's? Don't be caught looking like this! Keep you hair, loose, soft, and shiny. Update your style very six months and make sure your color is multidimensional, not flat and phony.
* These tips courtesy of
Deborah Boland and JoJami Tyler
.