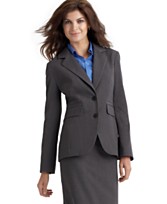 As the kids get ready to go back to school moms everywhere get ready to enter, or re-enter the workforce. Aside from transitioning your days from changing diapers and picking up Cheeri-o's to sitting through meetings and having to be somewhere on time, one of the biggest issues moms face is what to wear. Staying home with the kids, or even working at home, allows for a certain luxury in the way of comfort clothing, no footwear and little or no makeup. But get ready, moms, the times they are are a' changin'.
Whether you're going back to a career you love or going to work for the first time to help bolster the family income, putting together a working wardrobe from scratch doesn't need to be intimidating or budget-blowing. Here are some great pieces that work to create the foundation for a chic, office appropriate wardrobe, along with some ideas for putting your own personal stamp on it:
1/ Macy's is featuring some great office staples from
Rafaella
at prices that are too good to be true. The blazer pictured above is just $59.98. Snap up a matching pencil skirt or a pair of boot-cut pants for just $39.98 each and you've got the beginnings of many outfits. But hurry - quantities are limited.
2/ Busy moms can never have enough pants, so stock up at New York and Company. These chic
sharkskin pants
are a sophisticated look for the office - and when you buy one at $46.95, you get another pair FREE. So why not grab another pair of trousers for work or a pair of jeans for the weekend and save yourself some serious cash!
3/ Chadwick's of Boston has a great
Three-piece Ensemble
that includes a jacket, a shift dress and a pair of trousers with a free belt for $99.99. Try the chalk stripe for an elongating effect.
4/ Back to work doesn't have to mean boring. Try a few fun items like this
Draped Jacket
(right, $49.99) in a fun shade to bring a shot of color and style to your little black dress, pants or skirt.
4/ This
belted tank
(left, $19) is the perfect choice to layer under a jacket or cardigan for the office, or wear on its own with jeans for the weekend.
5/ Working moms need a bag that does double-duty while still keeping its cool. This chic
Croc embossed laptop bag
(sale, $29.99) holds your laptop, extra makeup, even a couple of diapers and looks chic in the process.
Keep your accessories understated and go with a simple, unfussy hairstyle. A little makeup is better than none at all, so allow for a few extra minutes in the morning for some tinted moisturizer, a little blush, mascara and a neutral lipcolor to keep you looking polished. Now your ready to go back to work in style!