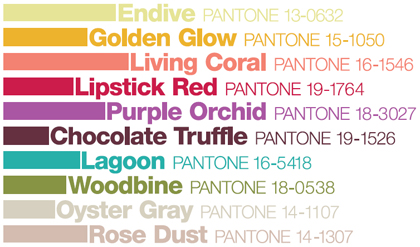 Fall is in full swing and that means it's time to pull on our fall colors. But do you know what they are this season?
Sure, fall's palette, as dictated by the forecasters of color, Pantone, include some very trad fall tones icluding golden glow and woodbine. But did you know that Living Coral, Purple Orchid and Lipstick Red were some of the season's hottest hues?
Now, how to wear them. Well let me first say this. My goal, as Your Signature Style Coach, is to help you understand how to get the best look for YOU. While that means occasionally following the trends to a T, it most often means interpreting them in ways that best suits you.
For example, Living Coral is a gorgeous shade but it's not going to be the most flattering shade of pink on many of us (myself included). So what I recommend is to find your best shade that's in a similar hue and wear it as if it's the hottest shade of the season (after all it is, for you).
The easiest color for women to wear in this fall palette is the Lagoon. Pronounced 'the color for 2010', this vibrant shade of turquoise flatters most skintones and is a gorgeous shade on anyone.
I'd like to pass along some of my best color tips to help you wear color with confidence this season:
1/ If you're not used to wearing much color, take baby steps. Start by wearing a mid-tone or bold hue in your
accessories
such as a necklace or a scarf. Once you're comfortable with it, try a jacket or a top in your favorite bright and see how it can boost your mood as well as your skintone!
2/ If you're used to wearing a lot of black and you want to
incorporate color
, be mindful of the effect black has when paired with a bright. If your coloring is light and you wear black on bottom with a bold top, the overall effect may be too harsh for you and be overwhelming. Try pairing a bright color on top with chocolate brown, caramel or khaki - even denim - for a more flattering look.
3/ Don't let the trends dictate the
exact
colors you wear. Use them as a starting point. Say you like the purple orchid but you love a deeper purple more. Wear what makes you feel great is my philosophy because when you love what you wear it shows in everything you do.
4/ Experiment with your
best basics
, such as black. Find a deep color like the chocolate truffle that can act as a stand in. Who knows - you may very well find an alternative that looks much better on you than black!
5/ Color is the easiest way to
update
your wardrobe. If you're wearing your old stand-by LBD, make it pop with some vibrant accessories in a current shade and no one will know it's been in your closet for 5+ years!
6/ Find your
Signature Colors
! Select 2 or 3 of your best brights and use those throughout your wardrobe, in your home, in your marketing and you will feel like your life is personalized to you!
Wearing color with confidence can help you to step out in style!
Don't know what colors best flatter you? Email me to find out how you can discover your 40 best colors and nail it every time! michele@onechicmama.com.